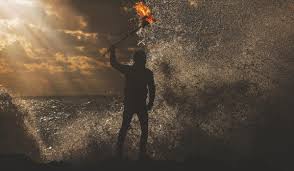 Invoking God and uttering Yeshua's (Jesus) name was an acceptable, even welcomed initiative in the community wherein I grew up. Jamaica was, and still is a place where people are receptive to the Gospel and to discussing Biblical topics, even if they do not live out those Biblical principles. This is not necessarily a compliment to those who engage in such conversations but it opens the door to sharing the Gospel, at work, school, or in the public square.
Much of western culture today is resistant to hearing the Gospel; this is also true for other nations with differing major religions. It's much more difficult to share your faith at work; doing so may even lead to termination. Preaching the Gospel is less tolerated in the public squares, and certain schools will not allow outreach on their campuses. How do believers carry out the great commission beyond the pulpit while facing such strong anti-gospel headwinds!
Think back to the prophets, like Obadiah, who worked in the palace of evil kings and how they were obedient to God while doing so. What is it that you fear the most? Is it God or is it losing your job? We may not want to lose our jobs, our livelihoods, or our security. We may have the needs of our children and other loved ones to consider. Your job may be the external support system for your ministry or ministries that you support. Still, the question remains—whom do we fear the most?
We should never fail to take our faith to work for through faith God will sustain and increase our work. Resistance will come, but "with God nothing is impossible" (Luke 1:37). Times and seasons are changing and the world is becoming more resistant to the message of Messiah (1 Corinthians 1:18). This is not a surprising development, and we should not be so. Yeshua told us, "Remember what I told you, 'A slave is not greater than his master.' If they persecuted me, they will persecute you too; if they kept my word, they will keep yours too" (John 15:20).
Take your faith to work, even in the face of resistance. Remember, "they will do all this to you on [Yeshua's] account, because they don't know the One who sent [Him]". Take your faith to work, for your place of work is part of your journey through this world and the Great Commission is to "go and make people from all nations into talmidim, immersing them into the reality of the Father, the Son and the Ruach HaKodesh, and teaching them to obey everything that I have commanded you. And remember! I will be with you always, yes, even until the end of the age" (Matthew 28: 19-20).
The Bible tells us of discouraging events—Cain's struggle to overcoming jealousy, Abraham not being able to see the promise while Sarah was still barren, Jacob not getting the hand of Rachel when he expected it, Moses having to wander in the wilderness, Ezra's efforts to rebuild Jerusalem, or John the Immerser's (Baptist) doubts while in prison, to name a few. Paul tells us of the struggles he faced during his years of ministry; struggles that would have caused some of us to give up short of the goal.
We, too, are no strangers to obstacles and discouragements. We face them in our everyday lives, and in our efforts to serve the Lord. Believers in particular face a unique set of obstacles that are aimed at stopping us from sharing Yeshua. "For we are not struggling against human beings, but against the rulers, authorities and cosmic powers governing this darkness, against the spiritual forces of evil in the heavenly realm" (Ephesians 6:12). Still, we overcome!
Don't give up! "Be strong in the Lord and in the power of His might" (Ephesians 6:10). Obstacles are just that—a thing that blocks one's way or prevents or hinders progress. It does not stop you but does make it more difficult to carry out the task. The Adversary may hinder you but he is powerless to stop you, with God leading the way.
You are not alone! We may often feel as if we are in the fight alone. Elijah was a man of great faith and strength, but he, too, became discouraged when it Jezebel sought to kill him— "Adonai, they have killed your prophets and torn down your altars, and I'm the only one left, and now they want to kill me too!" But what is God's answer to him? "I have kept for myself seven thousand men who have not knelt down to Ba'al" (Romans 11:3-4).
Lastly, remember that you matter! Not as the world thinks of you, but as the Father thinks of you and prove his love toward you. "See what love the Father has lavished on us in letting us be called God's children! For that is what we are" (1 John 3:1). Do not be discouraged, be encouraged in the Lord, and in the power of his might!