Faith
I​ have always wondered how that after all the judgments described in Revelation people still refused to repent. Are we that hard of heart that we don't want to bow down to God and instead choose destruction? Have you also pondered this and came up with your own reason about why that is? I admit, I never came to a conclusion about why people would still not repent. I guess I was too focused on trying to understand the Book of Revelation to even get that far. 
During the week of August 16, 2021, I had a dream two nights in a row where I saw flooding, panic, and confusion. Later that week, there were some flash floods across Massachusetts and a friend who lives there describes scenes that brought my dreams to memory. I thought maybe my dreams were playing out and kept the matter in mind. That same week, flash floods in Tennessee killed abut 22 people and caused major damage. Though, with hurricane Ida bearing down on Louisiana, this did not get much coverage. I began to think even more on my dream and whether it had broader implications. Then came the disastrous impact of Ida from the Gulf all the way up to New York and New England. My dream was no longer just a dream — to me, it was prophetic, and I had no idea what to do with it.
(more…)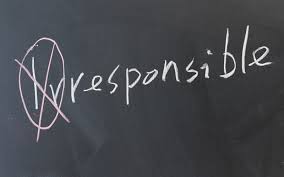 T​here is a teaching/opinion out there that God does not bring calamity and does not bring judgment because of Yeshua's (Jesus) sacrifice and the ushering in of a new covenant. Some faith leaders are using this to urge us to continue to meet in mass to worship because we are protected from the Corona Virus.
I am still learning and have not yet come to a complete understanding of Scripture but I can confidently say that faith is not irresponsible. To say that God does not bring calamity or judgment is an irresponsible betrayal of scripture. God says He does something but man find a way to dispute His word—or, so they think. No amount of reading between the lines can justify saying God does not bring judgment or that God will not bring about what is already prophesied. Tell that to Ananias and Sapphira who fell dead after deceiving the Apostles about how much they profited from selling their land (Acts 5:1-11) or Herod who an angel of the Lord killed for not giving God glory (Acts 12:23). Both of these incidents happened after Yeshua ascended to heaven.
God does promise to protect us—"the Lord is faithful, who will establish you and guard you from the evil one " (2 Thessalonians 3:3). Still, Scripture makes it clear that we experience the same difficulties as everyone else in the world—"We are hard pressed in every way, yet not crushed; perplexed, yet not in despair; persecuted, yet not forsaken; struck down, yet not destroyed" (2 Corinthians 4:8-9).
W​e still live in a fallen world and are still susceptible to pain, sickness, despair, and death. It would be irresponsible to walk into oncoming traffic and it is irresponsible to disregard the safeguards put in place to protect ourselves and others from contracting the Corona Virus.
I may be stubborn but I know that I am not impervious to this virus. Furthermore, Scripture tells us not to put God to the test (Deuteronomy 6:16; Matthew 4:7). Yes, God is faithful to fulfill His promise to protect us, but unnecessarily exposing ourselves to danger is irresponsible and amounts to testing God!
"Now may the God of peace Himself sanctify you completely; and may your whole spirit, soul, and body be preserved blameless at the coming of our Lord Jesus Christ. He who calls you is faithful, who also will do it" (1Thessalonians 5:23-24).
W​e are often an anxious generation! We become anxious at new beginnings, transitions, and when something comes to an end. Why is that? I believe that the main reason for our anxiety is that we do not know the future. Moreover, our negative past encounters have lasting effects our how we approach future endeavors. Our excitement about new opportunities are often sprinkled with some anxiety for the same reason—we do not know how it will turn out.
(more…)
"Three times I was beaten with rods. Once I was stoned. Three times I suffered shipwreck. A night and a day I spent in the open sea. In my many journeys I have been in dangers from rivers, dangers from robbers, dangers from my countrymen, dangers from the Gentiles, dangers in the city, dangers in the desert, dangers in the sea, dangers among false brothers, in labor and hardship, through many sleepless nights, in hunger and thirst, often without food, in cold and exposure." (2 Corinthians 11:25-27)
Life is a great journey, filled with ups and down, winding roads, and sometimes looping circles. We my become discouraged when we don't succeed in what we set out to do and when we continually confront denials and letdowns. We may begin to question ourselves, even more, we may question God and His faithfulness toward us. It may be that we begin to ask the age-old question – "Why does the way of the wicked prosper? Why do all the treacherous thrive?" (Jeremiah 12:1).
You or someone close to you may be experiencing some of these letdowns right now. You may be asking, "God, where are you and why are you not acting on my behalf?" This may not be to first time you've been in this situation; and it may not be the last. If you've experienced this before, you know the faithfulness of God because you have come out of it to be a witness. If this is your first time experiencing these trials, or if it seems you have been in this pattern for far too long, remember God's promises to His children and keep in mind that "God is not a man who lies, or a son of man who changes his mind! Does He speak and then not do it, or promise and not fulfill it?" (Numbers 23:19). He continues to tell us to "Be still before Adonai and wait patiently for Him. Do not fret over one prospering in his way, over one carrying out wicked schemes" (Psalm 37:7).
Remember, "The Lord is not slow in keeping His promise, as some consider slowness. Rather, He is being patient toward you" (2 Peter 3:9a). Hold fast to your faith and never take your eyes of the Lord. Testing will come as long as we are in this world but remember, "Happy is the one who endures testing, because when he has stood the test, he will receive the crown of life, which the Lord promised to those who love Him" (James 1:2). Yes, this is much easier to say than to do but the one who tells us this is faithful to see us through. We too have a part to play in inheriting the promises of God. This is why it's important that we examine ourselves each day and to rid ourselves of all that defiles us. As written in scripture, "Therefore, since we have these promises, loved ones, let us cleanse ourselves from all defilement of body and spirit, perfecting holiness in the fear of God" (2 Corinthians 7:1).
You may feel as though you are in a never ending bad situation but "God settles the lonely in a home. He leads prisoners out to prosperity" (Psalm 68:7). It may seem to you that you have nothing to offer, but remember, "A soul who blesses will prosper, and one who gives water will himself be satisfied" (Proverbs 11:25). If you are concerned with the prosperity of the wicked, remember, "Misfortune pursues sinners, but prosperity rewards the righteous" (Proverbs 13:21).
Regardless of your situation today, my prayer for you is that you will strengthen your faith in Messiah and that you will imitate Paul who, even through his litany of tribulations, could write, "I know what it is to live with humble means, and I know what it is to live in prosperity. In any and every circumstance I have learned the secret of contentment—both to be filled and to go hungry, to have abundance and to suffer need. I can do all thingsthrough Messiah who strengthens me" (Philippians 4:12-13).
Shalom!
" I cried to the Lord with my voice, and He heard me from His holy hill" (Psalm 3:4).
Do you pray knowing that God hears your prayer and has already given a response? One of David's many gifts was his ability to pray with confidence that the Lord had already answered him. The Psalms can appear to contradict itself but what we see as contradictions are the writers' confidence that God hears and has answered their prayers.
A number of years ago, Psalm 3 brought me much comfort during a time when it felt like the whole world was against me. I prayed this Psalm with great desperation and anguish as I sought the Lord and his deliverance from life's piercing arrows. There are times when the troubles of this life seem to have no end; time when there seems to be no light at the end of the tunnel.  (more…)