Jesus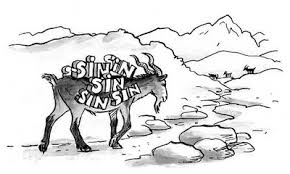 Have you ever been scapegoated?
A scapegoat is a person who is blamed for the wrongdoings, mistakes, and faults of others. Even if it has some truth to the accusations, a scapegoat is often wrongly accused and carries all the guilt of the entire group. Leviticus chapter 16 introduces us to the scapegoat and the purpose it served Israel – to carry away the sins of the people.
"Then he is to take from the congregation of Bnei-Yisrael two he-goats for a sin offering and one ram for a burnt offering. Then Aaron is to offer the bull for the sin offering which is for himself and make atonement for himself and his house. Then he is take the two goats and present them before Adonai at the entrance of the Tent of Meeting. Aaron will then cast lots for the two goats—one lot for Adonai, and the other lot for the scapegoat. Aaron is to present the goat on which the lot for Adonai fell and make it a sin offering. But the goat upon which the lot for the scapegoat fell is to be presented alive before Adonai, to make atonement upon it, by sending it away as the scapegoat into the wilderness". (Leviticus 16:5-10)
(more…)
This Yeshua is 'the stone—rejected by you, the builders—that has become the chief cornerstone.' There is salvation in no one else, for there is no other name under heaven given to mankind by which we must be saved!" (Acts 4:11-12)
About two thousand years ago, God came to His own so that He might deliver us from the tyranny of sin and death. He did not appear as the people expected and did not live according to the limits they had set in place for themselves and the people of Israel.
The mission was a complete success! Yeshua died on the execution stake for your sins, and mine. Crowds of people greeted Yeshua shouting "Hosanna" the day he entered Jerusalem riding on the donkey (Matthew 21:9). Today we sing hallelujah because He overcame the cross and death and is advocating on our behalf before the Father.
(more…)
The world appears to be suffering from identity crisis and this – identity crisis – is having a dramatic effect on each of us. We are created to be social beings, created in the image of God (Genesis 1:26-27). For this reason we have formed social clubs, sports leagues, communities, and political systems that we most identify with. Yet, even among these social clicks we often have a desire to stand out. It is not good enough to identify with the larger community, we tend to try to express our uniqueness among them as well.
The more we seek to stand out, the more we begin to show that we are no different from others who are trying to do the same. In this we prove our focus on self, and that we have more in common with others than we think. The answer to this is humility! Followers of Yeshua (Jesus) must never shy away from having things in common. We should all have the same goal of growing to be more like Messiah Yeshua. We should continually work to have a common faith (Titus 1:4), which has an identity formed in Messiah Yeshua.
Our common faith in Yeshua grants us the right to receive the title "children of God" (John 1:12), "a chosen people, a royal priesthood, a holy nation, a people for God's own possession" (1 Peter 2:9) and "God's people" (1 Peter 2:10).
We often make resolutions at the beginning of the new year which are often based on what we may have failed at accomplishing the year before; some of these resolutions are at times a repeat of what we declared the year(s) prior. Making a New Year's resolution in not wrong. Though, I wonder how often it has its foundation securely in Messiah? Yeshua said, "Because I live, you also will live! "In that day, you will know that I am in My Father, you are in Me, and I am in you" (John 14:19b-20).
Our identity – as believers in Yeshua – should be base on our common faith in God. We make resolutions partly because we want to change something about ourselves that is inherently part of our identity. I may be that we are trying to more closely fit a societal norm, it may be that we are trying to be more health conscious, or we may be responding to a health concern. No matter the reason, our race for identity should not outpace our common faith. If we call upon the name of Yeshua we should bot be afraid to run as one in Him. "For those whom [God] foreknew He also predestined to be conformed to the image of [Yeshua]" (Romans: 8:29). Those who are of the world may be trying to look more like and stand out among those of the world, "But we all, with unveiled face beholding as in a mirror the glory of the Lord, are being transformed into the same image from glory to glory—just as from the Lord, who is the Spirit" (2 Corinthians 3:18).
"Do not speak in the hearing of a fool, for he will despise the wisdom of your words". (Proverbs 23:9)
In my devotional reading this morning, Dr. Adam Dooley of Dauphin Way Baptist Church in Mobile, Alabama commented that "Believers should neither feel obligated to nor responsible for those who hate the truth." Dr. Dooley went on to state that "Regarding business, Christians should protect the weak with fairness and precedent, knowing that God defends based upon the truth rather than one's status or power".
I have to admit that, while I agree with the above, I have become skeptical of the human thought expressed on paper. This is true especially of Christians with whom I am either not familiar or whose words I am not able to reconcile with their actions. It bothers me that, as a Christian, I am becoming so skeptical of other believers but the larger issues is that we have come to this place; what then does the world think of us.
The Western church, at least in part, seems to be complicit in defending those who hate the truth and who seem to care little for the weak. Is this because, as research suggests, of the eroding biblical literacy and belief in the inherency of scripture? I believe this is part of the reason but the totality of this trend may be more sinister than we think.
The oldest sin is that which aims at self-gratification (pride). We in the West are drunk on the desire to satisfying our every desire. Technology is driven by our insatiable appetite for comfort and convenience and businesses thrive on our appetite for quick, "have it your way" service. I believe this sin is prevalent in the church today but is often masked behind "zeal".
Some have suggested that Judas betrayed Jesus because he was a zealot who thought that by doing so, Jesus would revolt and return the kingdom to Israel. If this is true, Judas' actions were motivated by a desire for self-gratification. Similarly, the religious leaders who plotted and called for the crucifixion of Jesus did so because He was a threat to their wealth and comfortable way of life. I'm sure you get the picture!
Today, the western church is busy fighting battles over the few issues we are zealous about; forgetting to defend the weak and uphold truth. Have we become self-centered zealots who willingly side with the violent to satisfy what we feel are the most important issues?
"All scripture is given by inspiration of God (God-breathed)" (2 Timothy 3:16) and is equally important and authoritative. Who are we to choose one issue over another, or ignore one sin for the sake of another? Should we not be zealous for every word of scripture? It is the very opposite of this that has created such decay in the moral and theological state of western society. When the church fails to lead the nation fails to thrive and sin becomes a cancer that takes hold of it.
Did not the Lord warn that when we fill the land with sin it will cast us out? I implore the church to repent of our pride and desire for self-gratification. We cannot impress God with our zeal and attempt to do so is only at our own peril. What then does the Lord require of us. "He has shown you, O man, what is good; and what does the Lord require of you but to do justly, to love mercy, and to walk humbly with your God?"
We have become too much afraid of the anger of fools and instead of reproving them, we flatter them with their own lies. How often do we hear Christian leaders say "speak the truth in love" (Ephesians 4:15) but fail to "Love one another fervently with a pure heart" as we "Obey the truth through the Spirit" (1 Peter 1:22)?
We cannot lead if we fail to follow the lead of the Holy Spirit. The Holy Spirit is not in us if we obligate ourselves to those who hate the truth and to those who strike the weak, simply because of their status or power.