Gospel
Therefore, just as you received the Messiah Yeshua as Lord, keep living your life united with him. Remain deeply rooted in him; continue being built up in him and confirmed in your trust, the way you were taught, so that you overflow in thanksgiving.

Colossians 2:6-7 (CJB)
How do we know that someone has truly repented and now live a life united with Messiah Yeshua with a devotion to advancing the Kingdom of God? After Donald Trump was elected president of the United States in November 2016, I watched as prominent Christians and other ministry leaders walk slowly to the line of declaring him a Christian. The slow walk became a sprint as more and more people began echoing that declaration. He was declared to be prominent biblical characters like Cyrus, and Jehu. He was called God's anointed, and the Chosen One—a title he boldly embraced in a news conference on the White House Lawn.
(more…)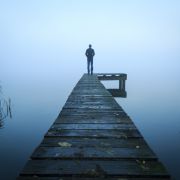 Do you grieve?
Do you grieve for the brokenhearted, for broken marriages, and broken friendships?
Do you grieve for the oppressed, the disadvantaged, and the disenfranchised?
Do you grieve for the hungry, the sick, and the terminally ill?
Do you grieve for those who reject the Gospel and for those who have never heard it?
Do you grieve for those who die in their sin?
Do you grieve for the loss of innocent life— the child in the womb, the youth, or the elderly?
Do you grieve when those with whom you disagree are harmed, injured, or killed?
Do you grieve for those who look, sound, and think different from you?
Do you grieve for the persecuted and the persecutor? Do you grieve for the wickedness that is filling the earth?
Do you grieve for the law enforcer and the law breaker?
Do you grieve?
"So God created humankind in his own image; in the image of God he created him: male and female he created them" (Genesis 1:27) and "it is not his purpose that anyone should be destroyed, but that everyone should turn from his sins" (2 Peter 3:9b).
By all accounts, Pontius Pilate was not a righteous man, but he was at least interested in the truth and in declaring that he found no case against Yeshua (Jesus), he spoke the truth. Looking at world events today one may instead ask, "does the truth even matter?" We have re-branded lies in such a way that it's now a popular strategy to gain attention, notoriety, and wealth. It may appear that facts no longer decide whether information is true or false, but if we like the information presented. Such an environment makes it more likely that the Antichrist will succeed in deceiving the nations.
(more…)